Add your review
Rutus ARGO NE Metal detector
Rutus ARGO NE Metal detector
Rutus Argo NE: Argo NE is a continuation and expansion of the concept of two previous detectors, Argo and Optima which have gained widespread popularity amongst metal detectorists. Read more
Ordered before 17:00, delivered tomorrow.
Description
Rutus Argo NE
Argo NE is a continuation and expansion of the concept of two previous detectors, Argo and Optima which have gained widespread popularity amongst metal detectorists.
The detector can operate on two frequencies which ensures that it can work in most situations, providing a universal solution. The detector is ideally suited for experienced detectorists with moderate or advanced levels of knowledge.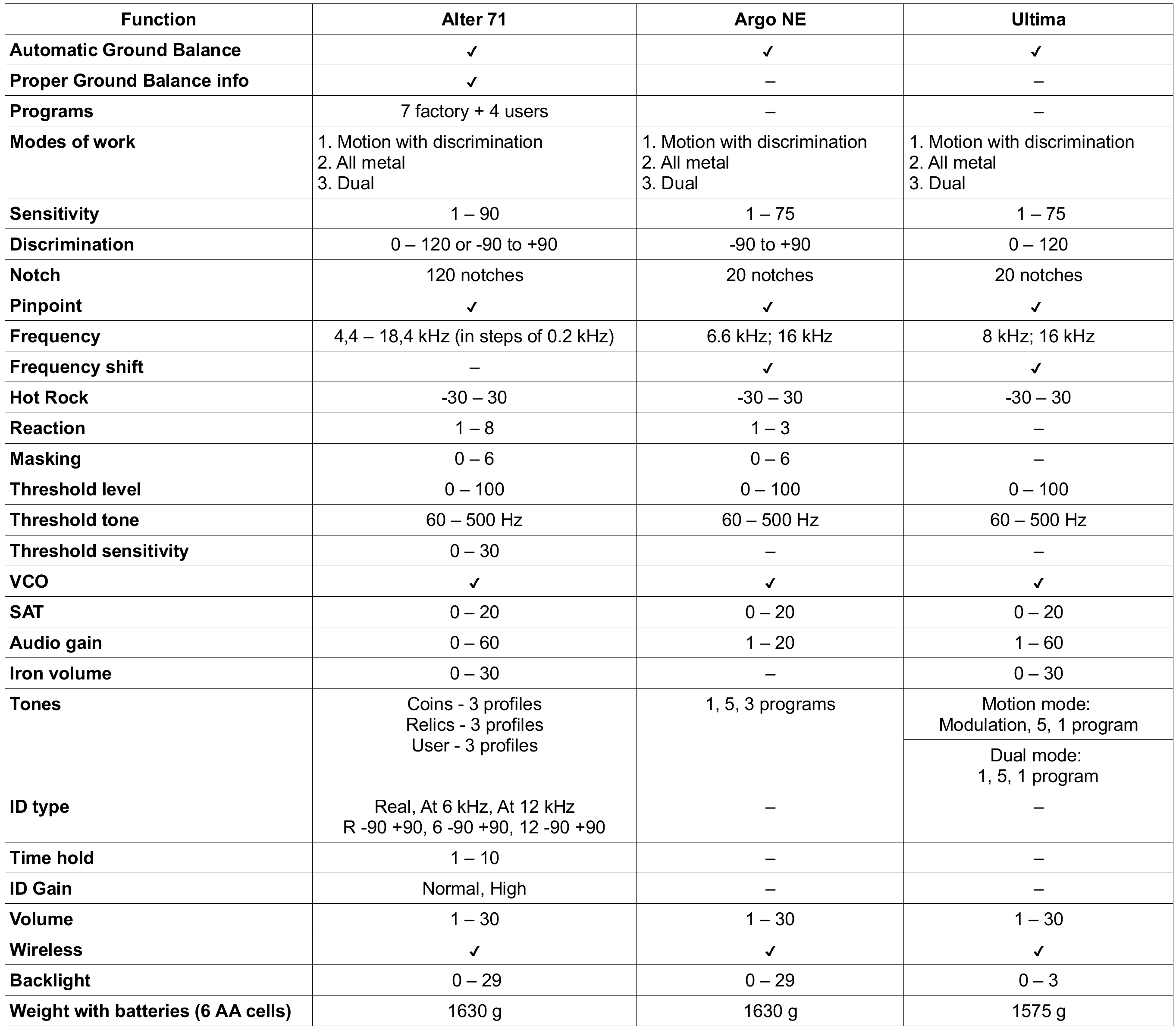 Specifications
| | |
| --- | --- |
| Technic | |
| Metal detector type | |
| Service | |
| Number of search modes | |
| Weight Metal Detector | |
| Adjustable length | |
| Control panel waterproof | |
| Headphone jack | |
| Target audience | |
| Battery / Batteries | |
| Battery Life | |
| Battery indicator readable | |
| Depth range readable | |
| Soil mineralization readable on the display | |
| Ground Balance | |
| Sensitivity | |
| Pinpoint function | |
| Discrimination against unwanted objects | |
| Notch | |
| Object identification in audio tones (metal type recognition) | |
| Object identification readable on display (metal type recognition) | |
| Numerical Object identification (highly accurate) (metal type recognition) | |
| Volume control | |
| Display Lighting | |
| LED search coil lighting | |
| GPS | |
| Vibration as a metal detection signal | |
| Frequency changer | |
| Control software in different languages | |
| Depth range small objects (1 euro) | |
| Maximum depth range for large objects | |
| Suitable for use on the waterfront | |
| Suitable for Wading (completely underwater) | |
| Suitable for Diving | |
| Suitable for mineralized soils | |
| Geschikt voor natte zoute bodems (aan zee) | |
| Suitable for gold nugget detection (Africa, Australia) | |
| Other additional functions | |
0
stars based on
0
reviews