Quest V80 Metal Detector
The Quest V80 is an extraordinary metal detector with an impressive frequency range of 5 to 80 KHz and unique HyperQ technology, allowing simultaneous searching with multiple frequencies. This detector is fully waterproof up to 5 meters underwater and features a convenient telescopic shaft that can be extended up to 49 cm.
What makes this detector even better is that it comes with a wireless Quest PRO headphone, making the search process even more comfortable. The 28 x 26 cm Blizzard search coil ensures optimal performance and maximizes your search results.
The built-in 5000mAh Li-Po battery can be easily charged using a USB type-c cable and lasts a whopping 10 to 15 hours after a full charge, allowing you to search for valuable finds without worry.
Discover the Depths with the Quest V80
The HYPERQ technology is a new method for detecting raw materials and minerals at great depths. Thanks to these unique features, even the most unreachable targets can now be achieved.
Higher Detection Frequency of the Quest V80
One of the greatest advantages of the Quest V80 is its higher detection frequency. With the ability to transmit multiple frequencies simultaneously, including signals up to 80 kHz, the metal detector can detect even the weakest signals. This is made possible by the powerful microcontroller unit (MCU) with a speed of 480MHz Cortex-M7 STM32H750 series, and a low latency and low-noise 4-channel 768kHz sampling rate ADC5140 from Texas Instruments.
Higher Processing Speed
Thanks to the powerful MCU and analog-to-digital converter (ADC) unit, the Quest V80 can generate and transmit frequencies of 5, 10, 15, 20, 40, and 60. This allows HYPERQ to process multiple targets simultaneously and quickly report the most valuable results.
Automatic Noise Reduction
Thanks to its high processing speed, the new Quest V80 can perform automatic noise reduction with just one click. It selects the quietest channel for the next detection in just 10 seconds, greatly speeding up the process and improving the accuracy of detection.
The Quest V80 is Smarter Than Its Predecessor
The new Quest V80 features the latest technology, including a gyrosensor, which allows you to:
Activate automatic ground balance without manual button pressing
Turn on automatic power-saving mode after 5 seconds of no movement
Improve accuracy by measuring swing speed and angle with motion detection.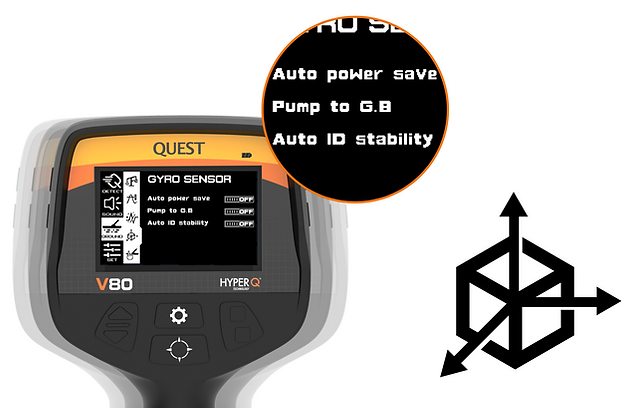 Better Readability with More Pixels
Readability of the Quest V80; The brighter the sunlight, the more detail you can read. With a viewing angle of up to 60 degrees, you won't miss any information.
High Responsive Speed: A high responsive speed is essential for detecting activities. The results are displayed in real-time without delay.
Super Low Power Consumption: Unlike other matrix pixel displays, the reflective LCD screen of the V80 consumes less than 10um of power, leaving more power for other applications.
Equipped with Backlighting: The Quest V80 is equipped with backlighting, which can be turned on in low light conditions.
The Quest V80 is More Compact
Mobility and simplicity. The detector is very portable and user-friendly, making it easy to store in your backpack. The patented "SUPER 3D Telescopic" rod set folds flat, offering maximum mobility and adaptability with minimal physical structure.
Personal Comfort. Comfort is a priority, as both the control box and the armrest are fully adjustable for personal comfort. In addition, all parts are replaceable for future maintenance.
Precisely CNC-Machined Parts. Precision is key, as the detector is designed with high-quality industrial aluminum and precisely CNC-machined parts. The shaft is divided into 4 sections without compromising the lightweight design.
GORILA Coil Structure. The copper wires are wound on sturdy nylon frames for better performance when the coil hits hard objects like rocks and thick bushes.
TurboD Double D Coil. The coil is combined with two kidney-shaped coils for deeper penetration and higher mineralization resistance.
Optimal Weight Ratio
The Quest V80 metal detector offers the best weight ratio design in the industry. The original T-style handle and shaft provide the best detection experience.
The V80 with Blizzard9 coil weighs 1140 grams and 1266 grams with Blizzard11 coil.
Optimal Portability
USB Rechargeable
The Quest V80 is easy to charge via a USB-c rechargeable battery or with a power bank or solar pad while on the go.
Waterproof Speaker
The detector's speaker is waterproof and can be easily replaced if needed.
Flashlight & Vibration Function
Finally, the V80 includes a handy flashlight for searching in dark environments and a vibration function so you can feel a detection in addition to hearing it.