Add your review
Minelab Equinox 900
Minelab Equinox 900
Op voorraad
One of the best-selling all-in metal detector just got better. The Equinox 900 powered by Minelab's Multi-IQ technology. Read more
Description
Minelab Equinox 900 Metal Detector
One of the best-selling all-in metal detector just got better. The Minelab Equinox 900 is powered by Minelab's Multi-IQ technology.
The metal detector features an impressive 119 High Resolution Target ID system, superior object discrimination and is fully waterproof to 5 m (16 ft) with an IP68 rating. With upgrades such as a 3-piece carbon folding stem set and advanced audio controls, plus full-featured features including "Control Pod Flashlight" and "Handgrip Vibration".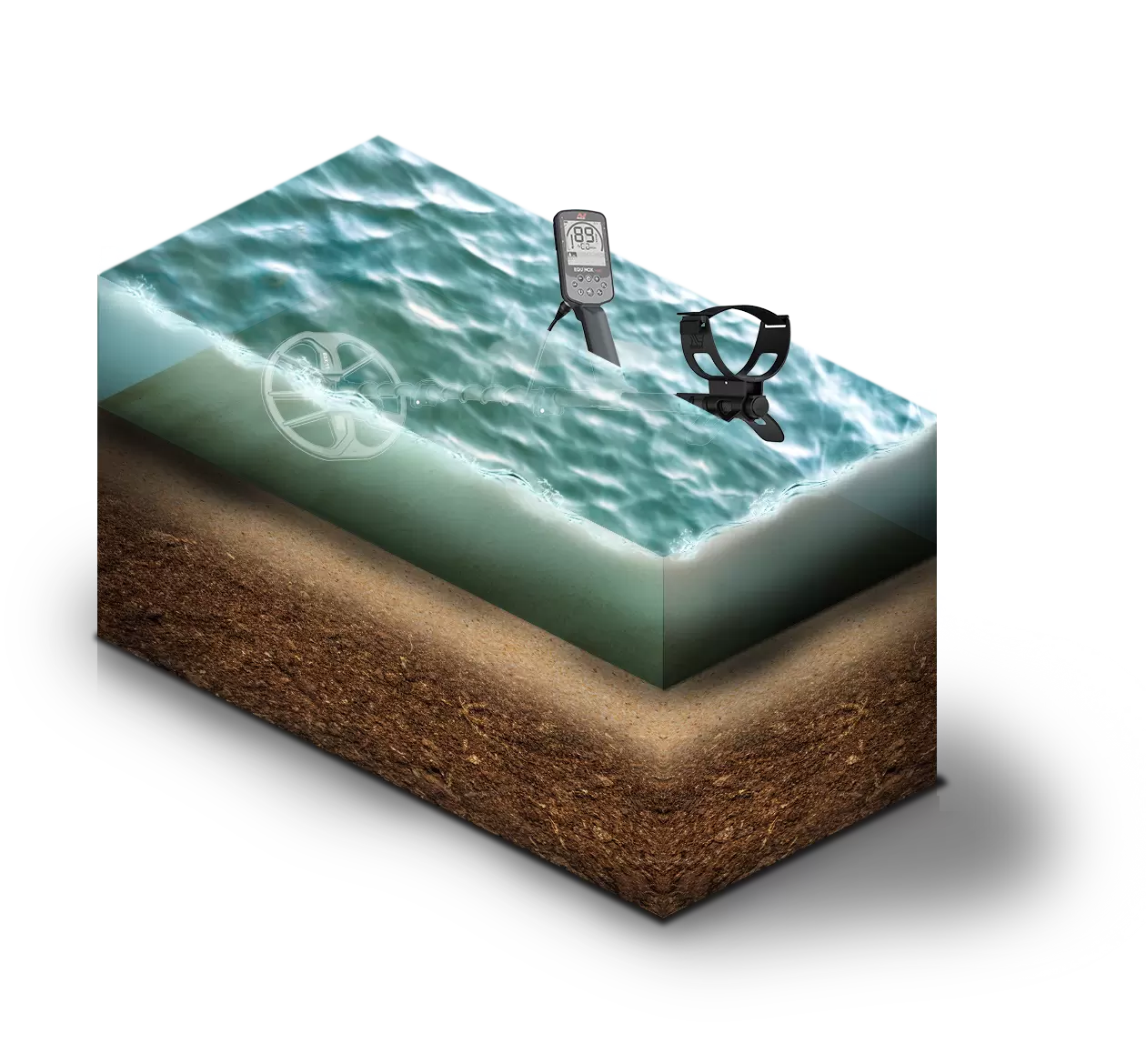 Why Minelab's Multi IQ?
Minelab's revolutionary Multi-IQ technology gives you the combined power of multiple detectors in one. They all work together for you at the same time. The Multi IQ technology makes it possible to search even on very difficult ground. Search for silver, relics or jewelry in the different search modes Park, Field or Beach. Discover the power of the Equinox powered by Multi-IQ.
The Equinox 900 is suitable for all terrains: Whether in the woods on the beach or in the water the Equinox 900 can detect in any terrain.
Advanced audio options: With audio options and multiple tones, the sound of a target is crisp and clear. The Equinox series audio is extensive so that you can not only hear whether an object is trash or a good target, but you can also hear its size and depth simply by listening.
An Accurate Detector: The Equinox Multi-IQ delivers stable target IDs for the deepest targets. Rely on solid, stable information to tell you whether to dig or move on. When you have found an object, you simply switch to Pinpointer mode to search more specifically.
Six Single Search Frequencies: For those targeting a specific object, the Equinox offers the option to choose from four separate frequencies: 4/5/10/15/20/40kHz.
Illumination and Vibration: Daylight may be over but that doesn't mean the quest has to be too. With the Control Pod Flashlight, Red Backlight Display, Backlit Keypad and Handgrip Vibration you can keep going long after sunset.
Loud and Clear Sound: Enjoy crystal-clear sound with lightning-fast, low-latency wireless headphones with built-in speaker, or wired and waterproof headphones (accessories).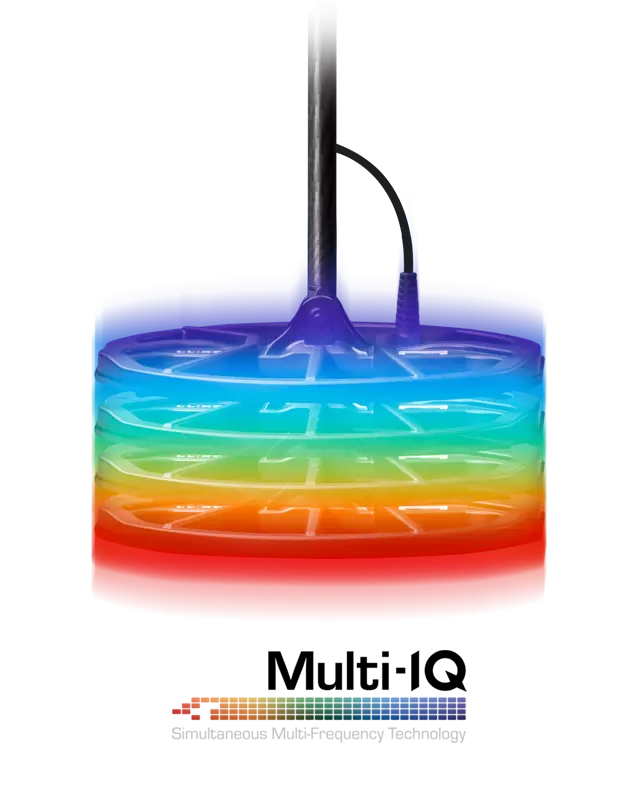 Search modes of the Minelab Equinox 900
The Minelab Equinox 900 has four terrain/preset search modes: Field, Beach, Park & Gold. Each of these modes is designed to help you use the detector in different environments. Once comfortable, you can adjust the presets or completely design your own combinations and save them for future use.
Five audio modes
The audio tones of the Minelab Equinox 900 have been improved and offer 5 modes, namely:
AT (all tones 99)
1 tone (for each metal)
2 tones (ferrous/non-ferrous)
5 tones (1 ferrous, 4 non-ferrous
DP (Deep - Similar to Gold Mode on the Equinox 800)
Separation of targets:
Recovery Speed and Iron Bias determine how your metal detector responds to multiple signals: from minimizing your chances of digging iron to tracking down gold and treasures hidden in the nastiest ground and everything in between.
Target ID improvement: 119 Target IDs from [-19 to 99]
The Minelab Equinox 900 has an extended discrimination range of 119 target IDs (-19 to 99). You can select all metals and hear everything or fine-tune to find just the objects you want to find. Discrimination range is the highest in any Equinox machine to date, allowing for customization and accuracy.
Increased sensitivity levels
Increased sensitivity levels
The Minelab Equinox 900 has a range of 28 sensitivity levels. That is 3 steps more than the Minelab Equinox 800. The expansion makes the Minelab Equinox 900 a lot more sensitive than the other Equinox Metal Detectors.
This metal detector combines good performance, comfort, usability and adjustability. The beautiful design has been renewed and improved both physically and in terms of operation. The 900 is a nice upgrade for Equinox users.
Specifications of the Minelab Equinox 900
Object discrimination with a wide range of VDI numbers from -19 to +99
Multi-IQ – True Simultaneous Multi-Frequency Technology
All-Terrain Metal Detector- With gold, park, field and beach search modes
Increased sensitivity to 28
Improved water resistance, up to 5 meters (16ft – IP68)
Now with 6 single frequency options - 4/5/10/15/20/40 kHz
3-piece carbon telescopic handle set (foldable to 61 cm)
Lightweight, only 1.2 kg
Object award with high recovery speed and improved Iron Bas
The control unit is now with a flashlight and has a red backlight and a handle with vibration.
Advanced audio settings with 5 audio modes with many setting options.
Contains two standard discs the EQX 11" and EQX 6" (EQX 15" available as an accessory)
Compatible with existing Minelab & CoilTek Equinox Search Wheels!
Robust design with a 3-year warranty
Specifications
| | |
| --- | --- |
| Search frequency | 4kHz, 5kHz, 10kHz, 15kHz, 20kHz, 40 kHz + Multi |
| Technic | Multi-IQ - True Simultaneous Multi-Frequency Technology |
| Metal detector type | All-Terrain Metal Detector |
| Service | |
| Number of search modes | |
| Search Coil | |
| Weight Metal Detector | |
| Adjustable length | |
| Control panel waterproof | |
| Headphone jack | |
| Target audience | |
| Battery / Batteries | |
| Battery Life | |
| Battery indicator readable | |
| Depth range readable | |
| Soil mineralization readable on the display | |
| Ground Balance | |
| Sensitivity | |
| Pinpoint function | |
| Discrimination against unwanted objects | |
| Notch | |
| Object identification in audio tones (metal type recognition) | |
| Object identification readable on display (metal type recognition) | |
| Numerical Object identification (highly accurate) (metal type recognition) | |
| Volume control | |
| Display Lighting | |
| LED search coil lighting | |
| GPS/Bluetooth /Other | |
| Vibration as a metal detection signal | |
| Frequency changer | |
| Control software in different languages | |
| Depth range small objects (1 euro) | |
| Maximum depth range for large objects | |
| Suitable for use on the waterfront | |
| Suitable for Wading (completely underwater) | |
| Suitable for Diving | |
| Suitable for mineralized soils | |
| Geschikt voor natte zoute bodems (aan zee) | |
| Suitable for gold nugget detection (Africa, Australia) | |
| Other additional functions | |
0
stars based on
0
reviews