Add your review
XP Deus 2 FMF Metal Detector
XP Deus 2 FMF Metal Detector
The XP Deus 2 with Fast Multi Frequency, waterproof up to 20 meters and completely wireless. Pre-order now and be the first to receive it. Order now! Read more
Description
XP Deus 2 Fast Multi-Frequency
XP once again pushes the boundaries by creating the first wireless multi-frequency metal detector combined with unique features and exceptional performance.
Features of the XP Deus 2 FMF
Once the coil, remote control, headset and pinpointer are paired, they communicate wirelessly and without delay using XP's patented radio protocol system.
This means that the objects detected by the search disk are sent to the headphones quickly and without delay, giving the DEUS II unparalleled speed and accuracy.
The DEUS II performs extremely well in all terrains and conditions, both on land and at sea, thanks to the FMF® technology (Fast Multi Frequency).
A new revolution Fast Multi Frequency!
Choose the Fast and simultaneous Multi Frequency programs or choose between 49 single frequencies from 4 to 45 kHz.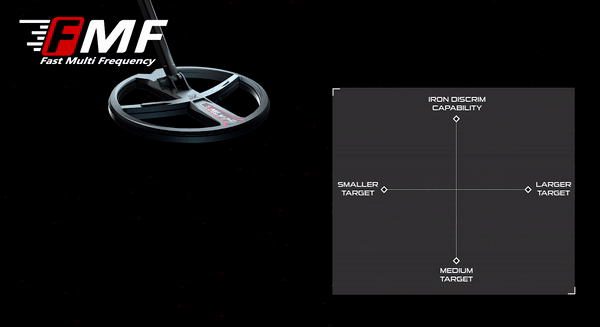 The above image illustrates the sensitivity and ability to discriminate iron depending on frequency and the advantage of Fast Multi Frequency programs detecting a wide spectrum of objects. This is just a basic schedule and may vary depending on programs and actual terrain conditions.
XP Deus 2 characteristics
Fast Multi Frequency and single frequencies 
Waterproof up to 20 Meters (with antenna to rc connection)
Shockproof
Wireless
Lightweight
New audio options (more info later)
Suitable for land, beach and underwater
3 FMF search coils 22cm, 28cm and 34x28cm (34x28 FMF available in 2022) 
4 Different headphones (First standard with the WS-6 later more options)
GO Terain App will also become available
24 Programs + 12 own
Update options
Frequencies: 4 to 45 kHz 7 main and 42 shifts + 49 single frequencies
BH-01 Dive headphones ( Bone conduction wireless headphones)
MI-6 Pinpointer is connectable  
Longer battery life
With 5 year manufacturer's warranty
XP Deus 2 FMF videos
Specifications
| | |
| --- | --- |
| Search frequency | 4 to 45 kHz 7 main and 42 shifts + 49 single frequencies |
| Technic | FMF |
| Metal detector type | Digital/Wireless |
| Service | Pushbuttons |
| Number of search modes | 24 Programs 12 factory + 12 custom |
| Search Coil | 3 FMF search discs 22cm, 28cm and 34x28cm (34x28 FMF available in 2022) |
| Weight Metal Detector | From 750 grams |
| Adjustable length | S-telescopic poles: 58cm retracted, 130cm extended |
| Control panel waterproof | With gray cap 1m with the red 20m underwater |
| Headphone jack | Yes, 3.5mm headphone jack |
| Target audience | Advanced, Expert and Gold detection |
| Battery / Batteries | Remote/coil: 700 mAh - Headphones:320 mAh |
| Battery Life | 15 to 30 hours depending on the settings |
| Battery indicator readable | Yes, for all components separately. |
| Depth range readable | Yes |
| Soil mineralization readable on the display | Yes |
| Ground Balance | Grab, Manual or Tracking |
| Sensitivity | 0 to 99 |
| Pinpoint function | |
| Discrimination against unwanted objects | Yes |
| Notch | |
| Object identification in audio tones (metal type recognition) | 1, 2, 3, 4, 5, Pitch and Full Tones 1 and 2 + EXPERT modes |
| Object identification readable on display (metal type recognition) | No |
| Numerical Object identification (highly accurate) (metal type recognition) | Yes, 0 to 99 |
| Volume control | 10 levels for each audio output |
| Display Lighting | 20 levels adjustable, very low power consumption |
| LED search coil lighting | No |
| GPS/Bluetooth /Other | Wireless digital link, multichannel automatic (36 channels) |
| Vibration as a metal detection signal | |
| Frequency changer | Simultaneous Multi Frequency or between the 49 single frequencies from 4 to 45 kHz. |
| Control software in different languages | Yes, 18 different languages |
| Depth range small objects (1 euro) | |
| Maximum depth range for large objects | |
| Suitable for use on the waterfront | Yes |
| Suitable for Wading (completely underwater) | Yes |
| Suitable for Diving | |
| Suitable for mineralized soils | Yes |
| Geschikt voor natte zoute bodems (aan zee) | Yes |
| Suitable for gold nugget detection (Africa, Australia) | Yes |
| Other additional functions | |
5
stars based on
14
reviews